Alex Mitchell has always oozed talent. From his first match in October 2003 aged 6 against Chester for Lymm U7's – 3 stone wet through, tag belt touching the ground, the ball looking huge in in his hands – to his final match in May 2015 aged 17 for Lymm U19's against Wharfedale in the 'Cock o' the North' Cup Final.
At this point he was firmly embedded in the England Age Group and Sale Academy systems, and Alex has always mesmerised opponents and delighted spectators. In those early days he demonstrated natural talent and an instinct for the game which, for sure, was helped greatly by having two older brothers to compete with and a father who was a highly regarded rugby coach.
For most people at Lymm it was, probably, at the end of 2014-15 season when the enormity of his potential really shone through. Having been absent for most of that season with Sale and England commitments Alex made his one and only league appearance for Lymm First XV in the last match of the season against Billingham, a strong team from the North East.
Early in the second half, Alex turned the hitherto closely fought encounter on its head scoring an outrageous try from halfway – dummying his way through the whole of the Billingham side and confusing the crowd as well – a brilliant try which only he could have scored, that broke Billingham's resolve and opened the floodgates for Lymm to secure a comfortable victory.
A couple of weeks later Alex played in the abovementioned Senior Colts 'Cock o' the North' Final at Wharfedale. He played fly half that day and by half time, Lymm were 40 points to the good with Alex having scored, or had a hand in, each of Lymm's 6 tries.
His performance in that half caused the Wharfedale announcer to bark in a mix of desperation and admiration "Who is that player?". Then at full time, he wished Alex the best of luck in his career at Northampton Saints, which he was embarking on later that month.
Alex's career and successes have been followed closely by all at Lymm, and it gives us all tremendous pride to see him on the biggest stage of all representing England in the Rugby World Cup.
Young Lymm players have a role model to aspire to; whilst the older generation and his contemporaries, can reflect on their personal memories of Alex's incredible journey.
His on-field success has also helped build the Club's reputation within the rugby community across the country, putting Lymm well and truly "on the map" and within the RFU itself. Indeed, the RFU were at the Club last Sunday, filming for their "It means so much…." series where they go back to the junior clubs that were vital in the development of current England players.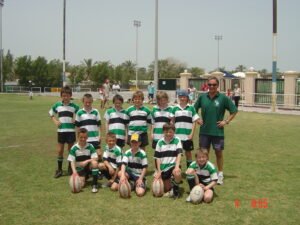 2007 Bahrain Tour (Alex – Front Row Left)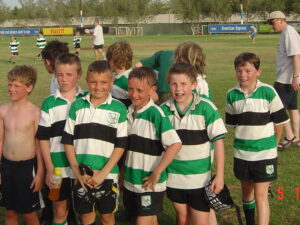 2007 Bahrain Tour (Alex – 3rd from Right)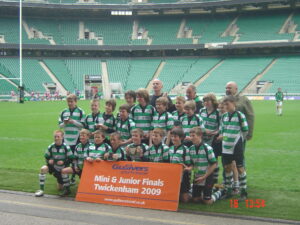 2009 Twickenham Trip (Alex – Front Row 4th from Left)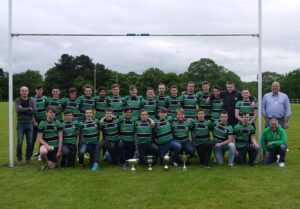 2015 Cock O' the North Cup Winners (Alex – Front Row 5th from Left)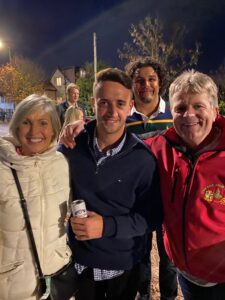 2021 Post South Africa Match at Twickenham with Andy and Karen Leach