CHARLES JAMES HUTCHINGS
JULY 15th 1936 – 19th JULY 2021
It is with great sadness that we belatedly report the death of James Hutchings, better known as 'Gentleman Jim' to his friends and players at Lymm. James died whilst on holiday in Abersoch on 19th July 2021, aged 85. The club wishes to convey its sincere condolences to his brother Lewis, sister-in-law Judy and their children, Alex, Trudie and Gwydion.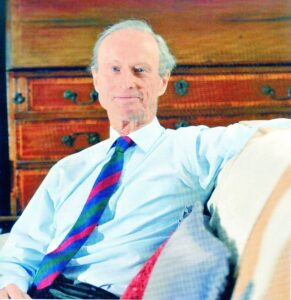 James joined the club during its first full season in 1960/61 and became the 3rd Club Captain in the 1962/63 season. He was educated at Loretto School, in Musselborough, Scotland, where he excelled at sport, representing the school at Cricket, Hockey and was 1st XV Rugby Captain. After completing his National Service with the South Lancashire Regiment, he continued in the T.A. from 1957-1968, retiring with the rank of Major. He was a member of the management team at Rylands' Wire until its closure, before moving to Birmingham in 1974 to take up a position as Works Manager for the John Smiths Wire Company. He spent most of his life in Birmingham and after retiring early, served a very fulfilling 23 years as a Birmingham City Councillor.
The 1960's were the Foundation Decade of Lymm RFC and James was very much part of the pioneering spirit of those times both on and off the park. The club was growing very quickly and within its first 3 seasons was already fielding 4 teams. Indeed in 1963, a rugby club bar turnover survey listed the club as having the 2nd highest bar turnover in England, just narrowly behind London Welsh. James quickly established himself in the first team earning the respect of all who played with him. He was popular company around the club bar, enjoying the banter with stories about his childhood in South Africa and his time at Loretto boarding school. As well as rugby, he joined in when needed with the work parties helping to turn the old Beechwood coach house and stables into our Rugby Club.
He might well have been an officer and Gentleman off the field but on it he was a determined, hard running centre, renowned for his attacking play, stone wall tackling and rock solid defence. In one particular game, his opposite number got a little fed up with being dumped by James and resorted to late tackling him with head tackles and cheap shots. 'Gentleman Jim' decided this chap needed talking to. So, after yet another illegal tackle he squared up to the guy and in his perfect public school English said 'Now look here, we are playing a game called rugger and if this type of play from you continues, I may be forced to fist you.' The guy apparently was open mouthed in amazement, not sure what to make of this 'gentlemanly' threat. Jim had no further trouble from him.
As Club Captain, James was determined to raise the club playing standards and introduced a rule that only those who trained would be selected for the 1st XV. After losing the first two games he realised that not everybody could train twice a week and reverted to the normal practice of selecting the best available side. The immediate effect was a 19 – 5 victory over Warrington 'A' XV. Whilst wishing to improve playing standards at the club, James also wanted players to enjoy themselves off the park, as well as playing rugby. Coaches to many away matches were the norm and often involved a late stay, which strengthened the bonding amongst players. Away games against Rhyl were the highlight of the season. Players would take their No 1's with them for the post-match, evening social activity. James sent a letter to Dave Berry for his book 'Out on a Lymm', describing his time as the Club Captain. It included the visit to Rhyl in April 1963, when we took the 1st and 2nd XV's. James wrote –
'The evening's entertainment was scheduled for a sea-front hotel. As one would expect there was much frivolity and imbibing. As closing time approached, the hotel owner, having had an exceptional bar take, told the staff to hurry the lads to finish their drinks and leave.
'The lads took exception to this and on the way out secreted away an old, highly polished, brass ships bell, which was mounted on an oak stand. The trophy took pride of place in the clubhouse but its stay was short lived, as we had been spotted smuggling it onto the coach.
'As I was involved in the deed and in sober contemplation, I decided to return the bell and drove over to Rhyl. I must admit that my courage deserted me on arriving at the hotel. I left the car engine running, wrapped a scarf across my face, turned the collar up on my jacket and pulled my hat down over my eyes. I hastily placed it on the bar and mumbled, "I hear you've lost a bell" and beat a rapid retreat'
After moving to Birmingham, James continued to follow the progress of the club, continuing his Vice President membership and eventually became a Life Member Patron. He generously supported the club's Grass Roots Charity appeal, which was set up to raise money to buy land for additional pitches. He was also a regular attendee of the annual Past Players Association reunions and in recent years was able to see additional land with quality pitches now in place.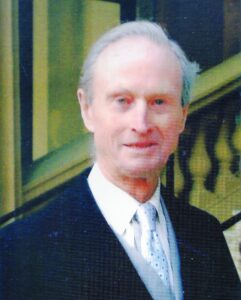 James continued his interest in sport throughout his life:  he was a former Club Captain of Harborne Hockey Club, playing latterly in the veterans' team and coaching youngsters for many years. His main hobby had been sailing and he was a member of the South Caernarvonshire Yacht Club (SCYC) and kept a boat and a home at Abersoch, where he had first learned to sail as a child.
James had never married and lived alone in Birmingham. In 2019 his health started to deteriorate but being a fiercely independent and proud man, he didn't wish to trouble people, especially with the Covid 19 pandemic starting to blight all our lives. But he had good friends and family who realised he was very poorly. In August2020, after two months in hospital, weighing 7 stone and almost unable to walk, he was taken to stay with his brother Lewis and his family in Anglesey. Judy, his sister-in-law, cared for him for almost a year and he enjoyed the time he spent there, reminiscing with Lewis about their early life and slowly recovered from his illness and was able to walk again.
He returned to Birmingham in early June 2021, moving into a retirement flat. He decided to take a holiday to Abersoch with a friend, the first time he had been there for two years and where he sadly died on Abersoch beach. In hindsight this seems quite a fitting end to his story. Maybe this would be how James would have wanted it to be, to set sail from the place he had loved from childhood, for an adventure into unchartered waters. Rest in Peace James.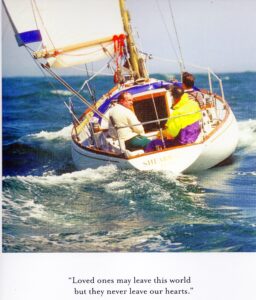 His funeral service held at St Engan's Church, Llanengan near Abersoch and may be viewed at: https://www.facebook.com/groups/557014525476594/
James had set up a charity, the James Hutchings Charity, to support a range of causes close to his heart: in education, sailing, culture and helping young people, principally in Birmingham and North Wales. If you would like to donate in his memory you can make a donation via Just Giving using the following link
https://www.justgiving.com/crowdfunding/james-hutchings?utm_term=gZVVqkz8e