It is with great sadness that we report the death of Martin Hampson, who died peacefully at home on Tuesday 24th November 2020, aged 82. The club wish to convey their sincere sympathy at this sad time to his family – Daughters Julie, Angela and Katie, sister Heather and brother David.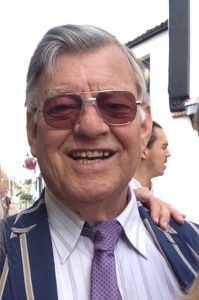 He was one of the great club characters. Better known to the older members, Martin was a key Founder Member of the club. At the inaugural meeting in January 1960 at The Spread Eagle, he was elected as Hon Secretary, a position he held until 1976. He was also the original 1st team hooker for the first season and half and considering he only had one eye, this was some achievement. He was the scourge of many a referee in the tricks he got up to on the pitch. The main concern for Martin was not whether he had the loose head but whether the ball was coming in on his good or bad eye. He was constantly off-side at rucks and mauls and throughout the game would delight in antagonising the opposition. His kit bag was full of odd socks and his favourite ploy was to wear one Lymm sock and one similar to the opposition. This was done to confuse the referee, who would often award Lymm a penalty for foot-up, when Martin had struck first with his odd sock foot.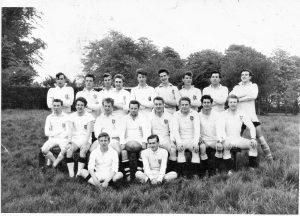 Probably 1961/62
LtoR Back: Alan Jones, John Gregory, Martin Hampson, Nev Morral, Alan Medlock, John Hewitt, Martin Davies, Jim McLennan, George Rigby.
LtoR Middle: Alban Booth, Vic Selby, Ray Collinson, Bruce Dennett, Neil Johnson, Roger Wilkinson, Gordon Speakman, Richard Goddard.
Front LtoR: Keith Fordham, Dave Dobson
His mischief continued back in the clubhouse. Martin liked his beer and could sink a pint in two blinks if it was his want. Unfortunately he was not fussy whether it was his pint or somebody else's. Drinking next to him at the bar was very risky. Those who thought they were doing well, guarding their beer often got a shock, when slightly distracted they heard a 'plop' and there was his glass eye at the bottom of their glass. 'Oh eck' he'd say, 'how did that get in there, give me the glass, I'll have to get it out for you'. Two blinks later, he'd sank their pint and retrieved the eye from the glass. When you overheard 'you ******* Hampson', you knew what had happened and saw Martin laughing out loud.
Martin's greatest contribution to the club was his dedication, enthusiasm and hard work in the first decade of the club. He was the driving force in turning the almost derelict Beechwood Coach House into the unique clubhouse we know and love today. He wasn't alone, there were many other Founding Pioneers involved but without doubt, there would be no Lymm Rugby Club without Martin. Thank you Martin from all of us and Rest in Peace.
Martin was a supporter of the Royal National Institute for the Blind charity, making annual donations. For those who would like to make a donation to the RNIB  in memory of Martin, the family have set up a Just Giving site at:
https://www.justgiving.com/fundraising/MartinHampson82
His funeral is on Friday 4th December, 10.30am at Dunham Crematorium. Due to current Covid19 regulations, seated attendance is limited to his family. However, those who wish are welcome to attend at the crematorium to pay their respects.