Some of you will have known Tim Baldwin, who suddenly passed away last Wednesday, 21 November 2018.
Tim's funeral is on Friday 7th December, 2.30pm at Carlisle Crematorium, CA2 6AR. This will be followed by a Celebration of Tim's Life at Penrith RUFC from 4pm.
A wing forward, Tim played for the very first Colts team at the club in 1962 and went on to play for the 1st XV when Bob Bates was Club Captain. He lived in Moore and was playing at the club until around 1966 before moving to Penrith area with his parents and family.
There he joined Penrith Rugby Club and met up with Jim Knowles. When Jim announced in 1968 that he was moving to a new job in Warrington, it was Tim who pointed him in the direction of the young Lymm RFC, rather than other, more established clubs in the area. I'm sure that we are all grateful for that fateful advice from Tim, to gain for us one of our great club stalwarts.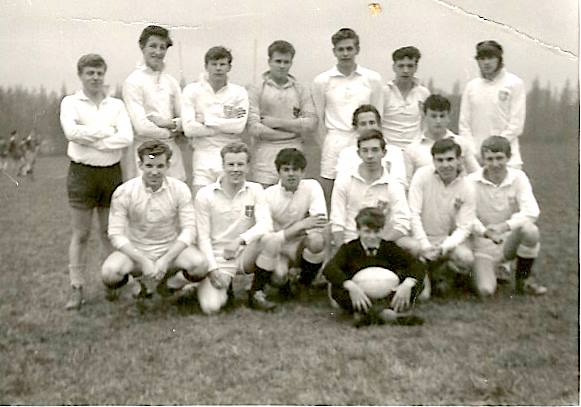 Lymm RFC Colts 1963-64 Season
This photo is courtesy of Tony Hollings, who was only 14 years of age when he played in this team. It was taken by his late father-in-law, Tom Bigmore, father of Dave who is also on the photo
Back row, standing, from L to R: Keith Fordham, Will Forsythe, Keith Mayall, John Sharman, Keith Adams, Pete Benn, Wayne Thomas
Middle Row, from L to R: Ian Priestnell, Mike Thomas
Front Row, from L to R: Arthur Ashcroft, Tim Baldwin, Tony Hollings, Dave Bigmore, Dave Wood, Geoff 'Dolly' Harmer.
Seated with ball: younger brother of Tim Baldwin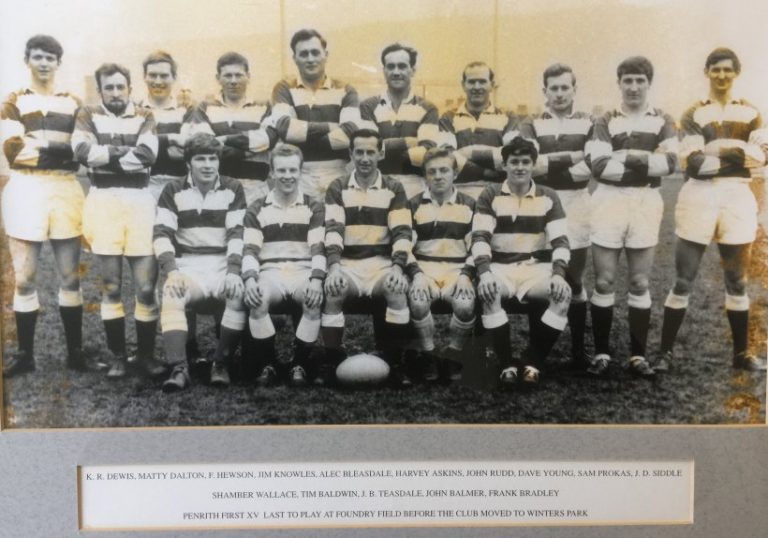 Penrith 1st XV probably 1967/68 with Tim
Front Row 2nd Left & Jim Knowles prior to moving South & joining Lymm – Back Row 4th left
Arthur Ashcroft and Peter Taylor (not on the photo), knew Tim well and on the occasion of a Penrith v Lymm league match a few seasons ago, travelled up and had lunch at Tim's house prior to the game and then went on to watch the match together. Geoff Harmer, who is on the team photo and lives close to Penrith, also joined them. All speak highly of Tim, saying, that apart from being a good player, he was a real Gentleman.
Comments from Tony Hollings
I was very saddened to learn of Tim's passing, although the last time I saw him was way back in those Lymm Colts days! I do remember him being a thoroughly personable individual and a phenomenal openside wing forward – not big, not bulky but hard, very hard! He was great in the tackle and a very determined and successful ball winner; very much in the mould of a young Neil Back, who wouldn't have been born, at the time the photo was taken! What's more, being the "baby" of the team, as I was at a mere 14 years of age, I was particularly glad to be on his side! The season, by the way, was definitely 1963/64 because it was then that I started "going out" with Dave Bigmore's sister, Joan, who, after a couple of false starts, I ended up marrying. At the last count it was 47 years of marital bliss!
Comments on the Penrith RUFC Website
Deepest Condolences to Jane and his Family.
It is with great sadness that we hear of the passing of Tim Baldwin.
Tim was 1st Team Captain in season 1970/71 and Player of the year in 1976/77.
Further details will follow.
RIP Tim.
Lymm RFC send our thoughts and condolences to Tim's wife Jane and the family.