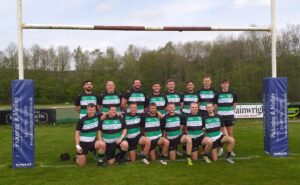 Lymm RFC 2nd XV
Top Row L to R: Nat Johnstone, Gav Woods (C), Mike Ince, Will Higgins, Matt Grellier, Gav Down, Ed Dobbs.
Bottom Row L to R: Jorge Reynolds, Dave Coon, Ash Freeman, George Anderson, Rory Riddell, Josh Hamer, James Anderson
Lymm travelled to Rossendale for the final game of the season with a much changed side due to injuries and unavailabilities. Credit should be given to the players who turned out, many playing out of position.
Lymm started brightly down the slope but gradually the more powerful Rossendale took command and scored two converted tries before half time. The second half followed the pattern of the first with Lymm on top in the line out and scrums but couldn't keep possession either at the breakdown or when handling the ball. Rossendale scored at regular intervals. Man for all Seasons, Gav Woods, stood out in the team and was rewarded with Lymm's try after pressure on the home line in the closing minutes.
Overall it has been a good season finishing 5th in the league and having some notable victories. When at full strength Lymm are a match for any side in the league, and hopefully with Covid related issues behind us next season, we shall have a more consistent availability of players. Special mention must go to Team Manager Peter Millachip who works tirelessly to get a side on the park each week. How he does it all with work and family commitments endorses the old adage, 'If you want something doing ask a busy man!!' Also a big thank you to Malcolm Pritchard; stray players' Sheep Dog, Touch Judge and Match Reporter.
Roll on next season, which will see little change in the league structure for the 2s.