Lymm hold on to secure victory on the road

Lymm travelled across the M62 to face York, a team with many similarities to the men from Beechwood.  Playing in green, black and white, with the same rugby philosophy as Lymm, they are also captained by former Lymm player Ross White and even have a No5 James Yates lookalike playing in the second row for good measure.
As far as the team sheet was concerned Aaron Rasheed returned in the second row. Adam Bray was replaced at hooker by Rob Makin and Sam Wadsworth filled in for Cormac Nolan at full-back. The place kicking of Nolan has been crucial to Lymm over the season and especially the past few weeks, it was hoped his absence would not prove to be a problem.
The Lymm President, Neil Kelly and his guests, were well hosted by his opposite number, Mickey Negri and colleagues, at their excellent Clifton Park, Sports Club facilities. In addition a good number of Lymm supporters crossed the Pennines to cheer on their team. In particular, a mini bus load of supposedly 'real ale' fanatics, who are still missing, but I understand that this is quite normal and it is rumoured that may have driven directly up to Kirkby Lonsdale for our final game on the 23rd.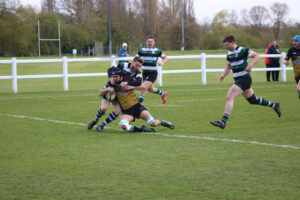 Aaron Rasheed scores Lymm's 1st try
The game kicked-off with York having the slight advantage of a cross wind. Lymm immediately started as they had left of the previous week, with Sam Wadsworth and Harry Martin combining to put Aaron Rasheed under the posts. Tom Shard stepped forward to assume the kicking duties and slotted the conversion to make it 0-7. York retaliated almost immediately, going through the phases and playing Lymm at their own game, finally going over for a score of their own. The conversion was missed making it 5-7. Place kicking was to prove crucial as the game progressed.
Both sides were now committed to open rugby and with an end of season feel, the tackling was seemingly forgotten by both teams. Lymm were next up with Nathan Beesley breaking through like a knife through butter to score an unconverted, trademark try, 5-12.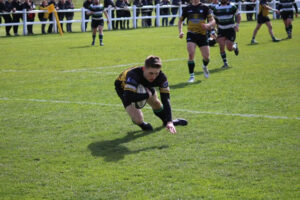 Nathan Beesley touches down for Lymm's 2nd Try
Next it was York's turn to score under the posts and level things at 12-12. With both teams playing similar open styles the game started to resemble more of a basketball game, as almost from the kick-off Scott Redfern intercepted the ball for Lymm to make it 12-19, with Shard adding the extras. Mention of the referee at this point, Mr Ricky Handa, who was certainly keeping his whistle in his pocket to help facilitate an open flowing game.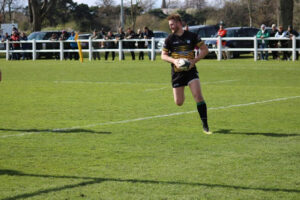 Scott Redfern scores Lymm's 3rd try
Lymm spoiled the sequence and scored again, in the absence of Adam Bray, Rob Makin benefitted from the short lineout move perfected by Olli Higginson and Bray to clinch the bonus point. Shard slotted a great conversion from out-wide to finally put a bit of daylight between the two teams at 12-26. Nolan who??? whispered the Lymm crowd
Just as the Lymm fans were looking to relax into half-time, York had the final say with a try of their own to make it 19-26 at half-time. Everyone took a well-earned breather and the mini bus team refuelled……….
HT 19 – 26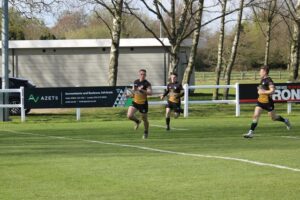 Steve Pilkington scores Lymm's 5th Try

The second half started with York in the ascendancy but Lymm benefitted from a turnover, which the pace of Josh Hadland and Beesley turned into a score for Steve Pilkington and a Shard conversion, 19-33. But York would not let up on the pace of the game, spurred on by their number 9 who had an excellent game, the York No5, 'Yatesy' lookalike, now came to the fore with an unconverted try, 24-33. Then Pilkington scored his 2nd try with a Shard conversion, to make it 24-40 with 18 minutes to go. But the York No 5 again touched down, the try this time was converted, 31-40.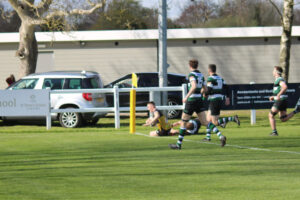 Steve Pilkington scored Lymm's 6th try
The game now went somewhat off-script, a flare up totally out of character of the spirit of the game, resulted in York's 'Yatesy', who had been the hero minutes earlier, shown a red card. Lymm failed to take advantage of the numbers as Scott Redfern was immediately yellow-carded for a late tackle. At 14 a side the pace didn't drop and it was York who now seemed to have the momentum, going over in the corner to make it 36-40. Lymm were then awarded a penalty and to the surprise of everyone decided to kick for the posts rather than the corner. Tom Shard stepped up to slot the kick and take the score out to 36-43.
By now the referee had well and truly found his whistle and it was Lymm who were on the wrong end of it, York going over in the corner again to make it 41-43. From the kick-off, with the clock in the red, York attacked again, Beesley intercepted but was ruled off-side. A string of desperate penalties resulted in a kickable penalty for York to the left side of the posts on the 22 to win the game. The penalty was missed, the whistle blown and Lymm escaped with the five-points and a 41-43 victory.
In such an open and flowing game, it was ironic that place kicking had been crucial and the point of difference between the two teams came down to the excellent place kicking of Shard, to edge the game in Lymm's favour.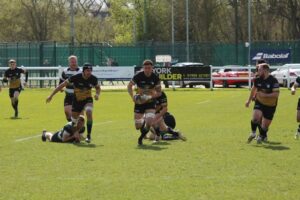 Olly Higginson Launches another Lymm attack
'Wow, what a game for the neutrals. I personally struggle to enjoy games like today but the 5pts makes it a lot easier' commented Adam Fletcher, Lymm's DoR.
'Our attack looked super sharp but our defence was pretty non-existent at times. York are a good side who play at a decent tempo. They put us under pressure every time they had the ball. We weren't emotionally where we needed to be but credit to the boys they hung on for the win.
'Our focus now turns to the Cheshire Cup Semi-Final match v Anselmians, being played at Birkenhead Park on Wednesday 13th April, KO 7.30pm. They've had a fantastic season, so will be coming into the game full of confidence. We definitely won't be underestimating them.
'Then our final League Game of the season is an away trip to Kirkby Lonsdale on Saturday April 23rd KO 3.00pm'.
Team: 1) Gavin Woods (C), 2) Rob Makin, 3) Matty Hand, 4) Aaron Rasheed, 5) James Yates, 6) Ed Morris, 7) Harry Martin, 8) Olly Higginson, 9) Gregor Watson, 10) Tom Shard, 11) Rory Riddell, 12) Scott Redfern, 13) Steve Pilkington, 14) Nathan Beasley, 15) Sam Wadsworth, 16) Jordan Widdrington, 17) Josh Hadland, 18) James Pitcher.
Referee: Mr Ricky Handa
Match Report: Neil Allen
Photos: Tim Martin