A Note Received From David Williamson
I love this club. I love the conversation, I love the characters, I love the sense of family and I love the fact that I will never be alone. No matter what challenges I will face in my life, I know that there are people behind me. I know that I will always have a place in which I belong. Cheering on the next generation or perched at a bar full of welcoming smiles. Friendships that have been forged on a pitch of grass over eighty minutes, creating bonds that will last a lifetime.
Dave Williamson
Since I retired from playing, my love for the club has only grown. I am so grateful to have been given the opportunity to play my small part in the history of Lymm RFC. In the memories that we have all created beyond the Crouchley Lane wall. However, my admiration for the club has recently reached a new level. It has burst open and exploded into a magnitude of pride.
This last week has been incredibly tough. As we all know, the kindest bloke in the world, Adam Cox, has been having a tough time of it to say the very least. 'Beef' was not only a mainstay in the first team, front row over the years. He's been a dedicated clubman, committed to doing his bit to ensure the current squad enjoy the competition that they currently do. He was a coach, a colt, a mini, a junior, and a Lymm RFC life timer. The club runs through his blood. He was one of the main men in 'Gary Fletcher's Barmy Army'. The all-conquering junior side that produced the likes of Hopkinson, Naylor and the current coach, Adam Fletcher. 'The Barmy Army' were one of the first Lymm teams to really signal the club's youthful intent. And what a player he was.
Coxy has never been one for a fuss. The way that he and his family have battled on through the darkest of times is a credit to them and it demonstrates the strength and love that they have within them. However, his friends from the club and those who went to school with him were to desperate to help. When it became apparent that Adam had to travel all the way to St Rocco's in Warrington just to have a shower, Lymm realised that it needed to pull together. So, the idea was born to build a wet room in his garage. A facility that allowed him to stay at home and spend more time with his loved ones.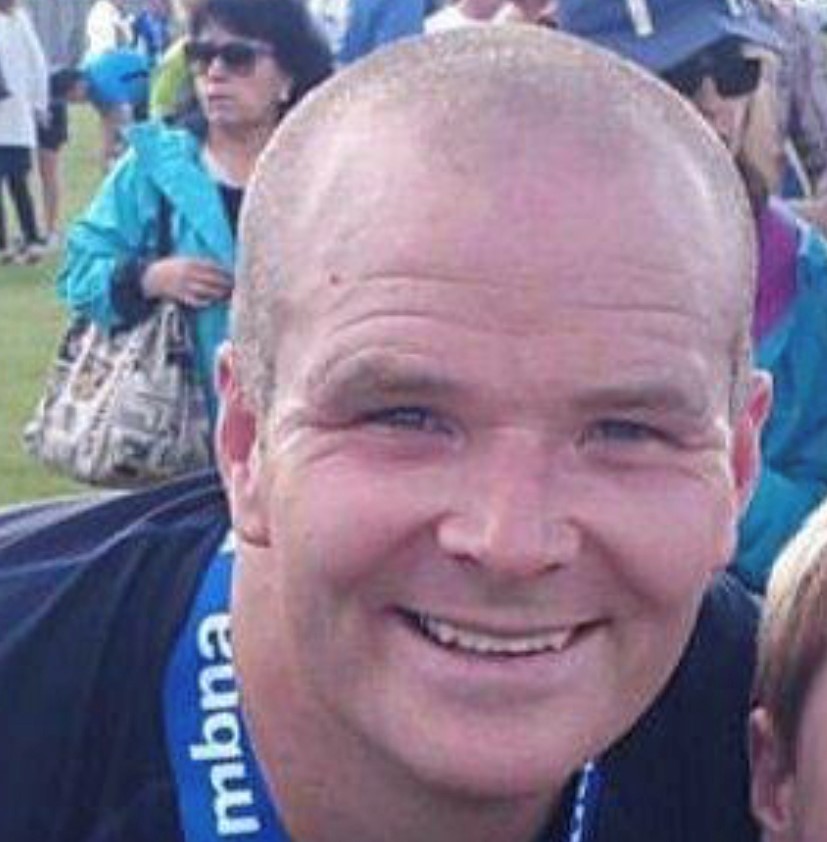 Adam Cox
With an army of helpers at the ready, we just needed someone to lead it. Now, who do you call when you need somebody to grab the bull by the horns? Who will stand up and say, 'I've got this?' Tim Oakes will, that's who. As fate would have it, Oakesy was working on a job when he received the call to arms. He was informed of Adam's situation and mentioned it to his customer. It was then that the customer told him that he already knew about it. He knew because Adam was his son.
Tim is not one for fuss either and he certainly would not want any accolades for the effort that he has put in. I just felt that he deserved some recognition. He has worked tirelessly to organise the workforce and his strength of character has shone through the darkness, once again. So much so that Steph has used this as a lesson to teach her children. She reminded them that positives can be found even in the most difficult of situations. If Oakesy wasn't already, he is now undoubtedly Lymm's greatest ever signing. He has provided the materials, sourced the labour and managed the whole project from start to finish. Would you expect anything less from the man? A Sandbach lad but a true Lymm Legend.
Obviously, a project like this costs money and fundraising efforts have already begun. To keep costs down, Tim has pulled in Coxy's ex-teammates from far and wide and he is determined to get the wet room finished by Friday. If you can lend him a hand, please do so. Incredibly, the £7,000 fundraising target was achieved within the first three days and that demonstrates how much love the people of Lymm have for Adam and his family. Even Bob Geldof wouldn't have managed that. However, we want to raise more. Please donate all you can to https://www.justgiving.com/crowdfunding/adamcox…
In addition to this, Lymm Rugby Club will be hosting a party with a live band, Scott Harrison has arranged a rowing event at Cross Fit, Trafford, on the 27th July and Andy Williamson is running a Battlefield Lazer battle, with all proceeds going to the cause. See the club website and Facebook for details. On the 21st August, Lymm RFC Old Boys will also be playing against Coxy's ex-employers, The Police Force, and your support would be very much appreciated. I'll now leave you with a post from Guy Larkin that summed it all up for me:
'Lads, it's fair to say, like many of you, I love a game of rugby and more importantly, Lymm Rugby Club. All of us enjoy it in our own special way, either as players, coaches, parents or alackadoos. However, I must say that I have never been prouder of it.'
Lymm RFC – More Than Rugby
Stay strong Coxy and family, we are right behind you