Fun in the sun to end the season
Lymm made the trip north for their season-ending fixture with Kirkby Lonsdale with a 5th place league finish secured and hoping to continue the momentum they have built in the second half of the season.  A win at Kirkby would extend their recent unbeaten run to 6 matches and complete a 12 in 14 win sequence.  Kirkby on the other hand have endured a difficult season, as several of their established players had retired, and they were now clearly in a rebuilding phase.  Notwithstanding their current woes on the pitch, all who visited Underley Park in Saturday's late April sunshine would agree that this must be high on the list of the most picturesque rugby grounds in the country – with a backdrop of the Cumbrian fells it was simply stunning. Its location and setting was not lost on travelling Lymm supporters. With sunny weather forecast many travelled up the M6, a fair few booking into local hotels to enjoy the weekend and the team probably had their largest away support all season.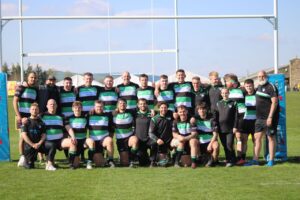 The Lymm Squad
The Lymm squad showed several forced changes from their last league outing – all in the backs – with Tom Shard, Ste Pilkington and Nathan Beesley out with injury and Scott Redfern unavailable.  However, Lymm were able to recall experienced duo Oli Higginson and Cormac Nolan, returning student Alfie Simpson and Rhys Lilly, back from injury.
Kirkby were hosting a past players reunion luncheon and the match was played in a great spirit throughout that kept the large crowd thoroughly entertained.  As you would expect given their relative league positions, Lymm enjoyed the lion's share of possession and field position, but Kirkby never gave up and never really let Lymm totally settle.
In all, Lymm ran in 8 tries of which Nolan converted 5, taking him past 1,750 points.  Kirkby were rewarded for their never-say-die attitude with 2 excellent second half tries of their own, one of which was converted.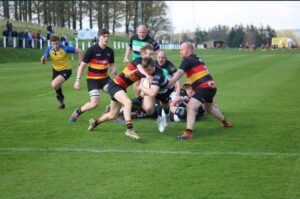 Gregor Watson scores Lymm's 2nd Try
Lymm's first 2 tries were scored by James Yates and Gregor Watson, just reward for the 2 "ever presents" in Lymm's 2021/22 league campaign.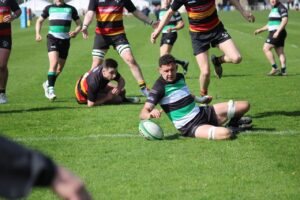 Oli Higginson touches down
It was also fitting that Lymm stalwart Oli Higginson should add the third – as he had scored Lymm's very first try at this level in September 2010 – and his 11th for the season, making this his most prolific.  Cormac Nolan converted all three, taking the score at the break to 0-21.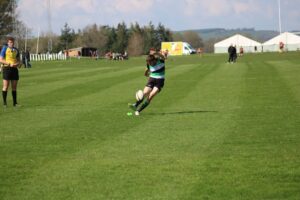 Cormac Nolan converts a Lymm try
Half Time:  KIRKBY LONSDALE 0 – 21 LYMM
Lymm were now playing into the strong wind but were able to maintain the momentum of the first half.  10 minutes into the second half, Lymm secured their try bonus point when Alfie Simpson finished off a move that had swept the width of the pitch.  5 minutes later Rhys Lilly scored what might be the easiest try of his career, as he flopped over the line following a period of sustained pressure which left the Kirkby wide defence stretched.  Nolan made an excellent conversion to bring the score to 0-33.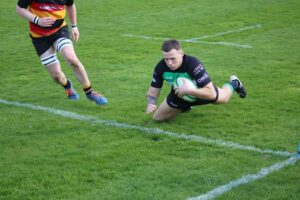 Rhys Lilly touches down for try 5

Kirkby then came straight back with a converted try of their own. 15 minutes later, student Sam Wadsworth, playing in the centre, added an excellent try – his 10th in 10 appearances – and 5 minutes after this, wing Rory Riddell scored his first of the season.   Nolan converted one to move the scoreboard to 7-45.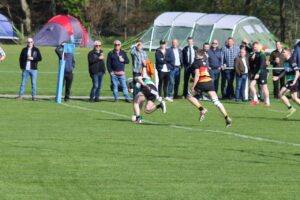 Sam Wadsworth crosses for the 7th try

As the game, and the season, neared its end Kirkby registered an unconverted try before Harry Martin, capping off an excellent first season in Lymm colours, scored in the left-hand corner.  Nolan missed the conversion; the referee blew for time; and that was that.  12-50.
Full Time:  KIRKBY LONSDALE 12 – 50 LYMM
Team: 1) Gav Woods(c), 2) Adam Bray, 3) Matty Hand, 4) James Yates, 5) Aaron Rasheed, 6) Ed Morris, 7), Harry Martin, 8) Oli Higginson, 9) Gregor Watson, 10) Alfie Simpson, 11) Rory Riddell, 12) Sam Wadsworth, 13) Josh Hadland, 14) Dalton Frith, 15) Cormac Nolan, 16) Jordan Widdrington, 17) Rob Makin, 18) Rhys Lilly.
After the match Director of Rugby, Adam Fletcher, briefly commented:
"Really happy to finish the season with another 5 point win.  Kirkby put us under pressure at the breakdown and tested us out wide, so we had to be really switched on.  Overall delighted with the win."
But that wasn't the end of the day's celebrations. It was his 40th Birthday and there was a large crowd of family and friends and a surprise party awaiting him when the team bus arrived back at the Lymm Club, to round off a memorable season. Happy Birthday and well done Adam.
In the absence of a coherent comment from the Lymm coaching team, here are some stats from what has been a most satisfying season:
5th place league finish – Lymm's 3rd best in 11 seasons
86 League points – 2nd best, best was 88
17 wins – equal best
18 bonus points – most ever
15 try bonus points – most ever
829 points scored – most ever, next best was 691
523 points conceded – 4th best
+286 points difference – 2nd best, best was +309
119 tries scored – most ever, next was 92.
22 penalties scored – least ever
52 players used – most ever, next was 46
Next Saturday the final club games of the season are as follows:
Lymm 2s travel to away to play Rossendale 2s KO 3pm
Lymm 3's are at home to Winnington Park 2s, KO 3pm.
Match Report: Andy Leach