First half blitz seals win
For the first time in many weeks the weather was kind to both players and spectators alike for Lymm's last home game of the season. Swelled by the ranks of the past players gathering, a good crowd were in giddy and expectant mood hoping these two top five sides could serve up a-match worthy of the occasion.
Blackburn look likely to finish third in the league and have had a great season built on forward power and dominance, in contrast Lymm's fifth place has been crafted on the traditions of skill and pace, backed up by a resolute defence. Team news saw Harry Martin return from injury and Josh Hadland from university, to add further to the pace battery in the back row. Ed Morris replaced Aaron Rasheed in the second row who was excused duty to run the Manchester Marathon, good luck Aaron. Jordan Widdrington also made a welcome return to the bench, Jordan was not running the marathon!
The game started and it didn't take long for Lymm to succumb to their usual failings of straying off-side. A penalty in front of the posts was dispatched for a 3-0 Blackburn lead within the first five minutes. Lymm hit back immediately with a Cormac Nolan penalty to make it 3-3. This the first of many from Nolan's boot, whose kicking all day was impeccable. On ten-minutes Lymm were awarded a further penalty for a scrum offence, Nolan made no mistake, 6-3 to Lymm. Immediately from the kick-off Nolan was at it again. Adam Bray gathered and shipped the ball and Nolan set off on a mazey run, finally off-loading to Nathan Beesley who put on the after burners to streak free and score. The conversion was naturally slotted to take it to 13-3.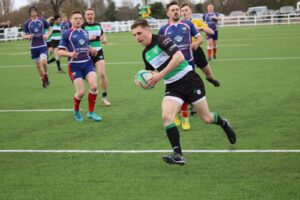 Nathan Beesley scores Lymm's 1st try
If this was a trademark Lymm try Blackburn replied with a Made in Blackburn try of their own. Numerous forward drives finally seeing them go over the Lymm line to make it 13-8 and game on with 15-minutes gone. Lymm were not deterred and for the next 20-minutes turned up the heat to blow Blackburn away. First it was the twin-backrow tyros of Martin and Hadland, using their pace to allow Martin to go over from a first phase line-out, with Nolan adding the extras, 20 – 8.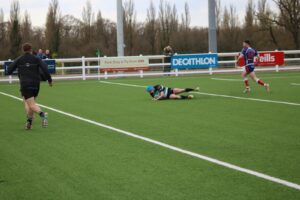 Harry Martin scores Lymm 2nd try
Next Nathan Beasley again found himself in space, with his blistering pace, nobody from Blackburn was able to lay a hand on him, finally off-loading to Gregor Watson to score Lymm's 3rd try with Nolan again on target for the conversion. 27 – 8.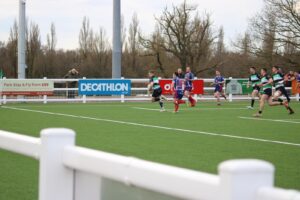 Gregor Watson cores Lymm's 3rd try
Lymm got a little over confident at this stage and Blackburn came back into things, James Yates receiving a yellow card in an effort to slow the Blackburn juggernaut. On the stoke of half-time Lymm however struck again, from a scrum Olli Higginson was hauled down just short, Ed Morris cleaning up and going over to take the score to 32-8 at half-time, Nolan hitting the upright and missing the conversion. Bonus point assured by half-time and the Lymm crowd were purring (and slurring) with skill and pace prevailing.
HT 32 -8
The second half was however a very different affair with Blackburn stepping up and imposing their game plan. The Lymm defensive game came to the fore as Blackburn turned to their forwards who kept coming at Lymm for the full 40 minutes without tiring. Lymm defence generally stood firm and with Tom Shard's astute kicking pushing Blackburn back, making them come from deep, Lymm were able to hold firm with few panics.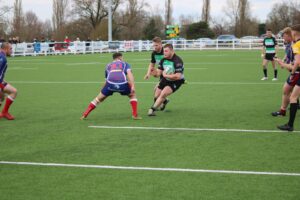 Tight head Prop Matty Hand with Scot Redfern in support
Blackburn did deservedly cross the line for a converted try on 64mins, 32 – 15 but the result was rarely in doubt, with the damage being done in the first half. Lymm made sure the scoreboard kept ticking with a Nolan penalty 35 – 15 with 68 mins played. Then with 5mins left to play, they crowned an excellent display with a final try, which saw second row Ed Morris flick the ball 'Simon Zebo esque' off his foot, gather and feed to Harry Martin to go over, to the delight of the bumper crowd, Nolan duly slotted the conversion from out-wide, 42 – 15. Finally in the last minute, Blackburn scored a converted try before the referee, Mr George Ounsley, who had had an excellent game, blew the whistle to end the game.
FT – 42-22
Whilst the second half had not quite lived up to the first, a bonus point victory against third place Blackburn was an outstanding result and a testament to the Lymm brand of rugby. Skipper Gav Woods was obviously well pleased with his team's performance.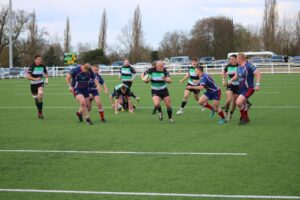 Skipper Gav Woods leads an attack
Every Lymm player stood up, in what was a great team performance but the pace of Beesley, industry of Martin and class of Nolan stood out. DoR Adam Fletcher, who had enjoyed the past players celebrations, was literally lost for words, but Head Coach Andy Davies commented: 'We are really, really proud of what the boys did out there today. All the things we talked about throughout the week, the lads followed through with and some more. Blackburn are a top team, and there's a reason why they are sitting third in the table, so we knew we had to come out firing, unsettle them, and that's exactly what we did. That first 25 minutes of rugby the boys put on was simply breath-taking and, in my eyes, is exactly the type of rugby you should want to go and watch.'
Lymm finish the season with two away league games, next-up a visit to York this Saturday, 9th April then to Kirkby Lonsdale on 23rd April. Lymm also play Anselmians in the semi-final of the Cheshire Cup at Birkenhead Park on Wednesday 13th April, Kick-off at 7.30pm.
Team 1. Gavin Woods (C), 2. Adam Bray, 3. Matty Hand, 4. Ed Morris, 5. James Yates, 6. Josh Hadland, 7. Harry Martin, 8. Olli Higginson, 9. Gregor Watson, 10. Tom Shard, 11. Sam Wadsworth, 12. Scott Redfern, 13. Steve Pilkington, 14. Nathan Beasley, 15. Cormac Nolan, 16. Jordan Widdrington, 17. Rob Makin, 18. Dalton Frith
Referee: Mr George Ounsley
Match Report: Neil Allen
Photos: Courtesy of Tim Martin
Other match results: Lymm 2s lost 20 – 41 to Blackburn 2's. Lymm Eagles won 86 – 10 against Oswestry 2s