It is with great sadness that we report the death of Lionel Cockayne, who passed away at home on Wednesday 16th February aged 82. Lionel was a former President of the club from 2003 to 2005 and was a universally popular and respected member of our club. We wish to convey our sincere condolences to Mary, Simon, Debs and their families. His presence will be sorely missed by us all.
Lionel joined the club in the late 70's having moved to High Legh in 1974. His initial interest was his 8 year old son Simon joining the M&J's and Lionel playing squash. He was brought up in Leicester and attended Wyggeston Grammar School where he first took up rugby in the Upper School. He was attracted to the fact that rugby training for the school senior fifteens, enabled him to skive of certain boring and uninteresting periods like French, German, Chemistry or Physics, which had been a total mystery to him for the last 5 years.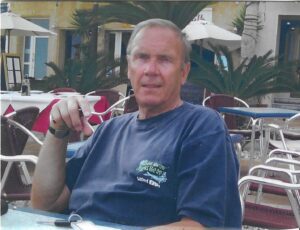 So, together with his pal Naz, he went to all the pre-season training sessions and although cementing the plan, to officially miss boring lessons, was still the sole reason for taking part, he gradually started to feel he was not completely out of his depth. However he was not completely sold on this rough game and he always knew he could walk away if he wished. Whether you played rugby or not Leicester was a rugby town and Leicester Tigers attracted bigger crowds than Leicester City. Lionel, like the rest of his chums was a keen Tigers supporter.
The rugby Head Coach was a Mr Herbert Quick known as 'Bert' He was Head of Geography and was well loved and respected by everyone. He was also an excellent rugby coach. He had lived in Lancashire and played for Orrell RFC before moving to Leicester. Lionel credits the coach with his 'Road to Damascus' or should it be 'Welford Road' moment. It was after the final school trial match, having played on the left wing for the possibles against the probables, that he was singled out by the coach for praise in front of all the assembled players.
'Very well played young man. Listen up everyone. I want you to observe the clever way the ball was carried under the left arm by this boy, affording protection of the ball by the touchline, leaving the right arm free to hand off the tackler. Well played young man.'
For Lionel to be singled out for such flattering praise by the respected Head Coach in front of the whole school rugby squad felt fantastic, even though his playing action was a mixture of a complete fluke coupled with self preservation. If he had held the ball under his right arm he may never have gone near a rugby pitch again, even to watch.
Bert would never know but this single pat on the back praise incident played an influential part in the direction of Lionel's life. It established a germ of self- confidence and will to better himself. He began to try other sports, cricket, athletics and tennis. His class work improved and opened up his social life and interests, (especially female ones at the local tennis club). But most importantly he carried on playing Rugby.
In the mid 1950's, Rugby was not readily available for a 16 year old after leaving school, so having started work at a local large knitwear manufacturing company he played briefly for the works soccer team. Eventually his two elder brothers introduced him back to rugby, playing for the Old Wyggestonians RFC and he quickly settled into rugby club life both on and off the pitch. After two years he left the knitwear factory, when his brother's friend Dave offered him a Sales position, working in a tourist shop in Dunbar Scotland. It was only a seasonal job but he enjoyed a season playing for Dunbar rugby club before returning back to Leicester and the Old Boys Club.
He married Mary in 1967 and now working in sales for an industrial sewing machine company, his career was developing. In 1970, after 8 enjoyable years playing 1stXV for the Old Boys he was offered a promotion to Sales Manager, which meant a move to Whitley Bay in Geordieland and he and Mary leaving their home town. Simon and Debs were born there and he joined Rockliff RFC. Whilst still pulling on his boots and jock strap, after a couple of years playing 1stXV, injuries and age started to take their toll. Finally an irreparable injury plus the responsibility to his wife and two young children brought 18 seasons of magic fun to an end but by no means the end of his rugby life.
Another promotion meant that the family must uproot again and in 1974 they set up home in High Legh. He had been a member of the Round Table organisation in Whitley Bay, which he enthusiastically supported having retired from rugby. He was introduced to the Lymm Table and quickly found himself at home. A number of his new Table colleagues were former Lymm RFC players and others played squash at the club. So, his rugby life of over 40 years at Lymm began. He did keep in touch with his old team mates at Old Wyggestonians and attended occasional club dinners and at one of them met up with his Leicester Tigers hero Martin Johnson.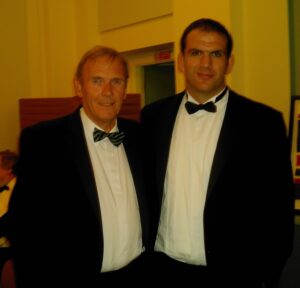 Being a member of Round Table meant you had to be an ideas man and roll up your sleeves when needed, to make things happen. This is how they raise funds for their local community causes. His sales experience was also an added asset. At the age of 40 it is compulsory to retire from the Round Table organisation to make way for fresh blood and new ideas. The timing couldn't have been better. Young Simon was now 10 and following in dad's footsteps and enjoying M&J rugby at Lymm and mum and dad started to sample the social life at the club. Lionel was a total Grass Roots rugby man and his ideas started to take shape over the next two decades. The club only had the one pitch at Beechwood and he was aware of the aspirations of the club to hopefully buy some land for additional pitches. This seemed an insurmountable task with the asking price of agricultural land around the Beechwood clubhouse. He wasn't a committee man but together with other club stalwarts, he set about organising fund raising promotions. We had personalised club towels; bow ties, sweat shirts, jumpers, club blazers and waterproof top coats.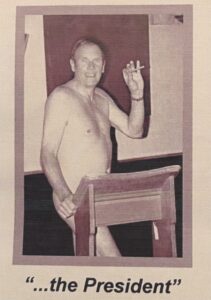 When he was invited to be Honorary Club President from 2003 – 2005 one of the Grass Roots funding initiatives during this time was a club calendar where in 'Calendar Girl' style, he and some of the members posed in their birthday suits. These calendars were sold around the world, as our 2003 World Cup tourists travelled to Australia with them.
Lionel was also a keen Golfer and had joined Didsbury Golf Club. He got his handicap down to 5 and can claim two hole in ones in his golf career – In 1982 a, Didsbury on the 11th hole and in 1990 at Strabane Golf Club, Northern Ireland on the 2nd hole. He also organised the Lymm RFC Annual Golf day at Heyrose Golf Club for many years, with sponsored prizes which raised lots of money. When High Legh Golf Club opened, he and Mary were founder members and he enjoyed the company of many of the boys from the Rugby Club for both social and competition golf.
Having been a member of 4 rugby clubs, he had a wonderful cross section experience of what makes rugby so special. The many differing characters; the changing room and bar banter; the escapades and anecdotes, the rugby songs etc. He could tell a good story and sing many unmentionable songs. He decided to write a book under the pseudonym of A N Oldpfartt in which he recalled his experiences. It is called Eskimo Nell. He funded the printing of 1000 copies himself and raised over £3,000 pounds for the Grass Roots Sports Appeal. Some copies may still be available, it is an excellent read.
He loved his rugby and would be ever present at matches, home and away. He and Mary were great supporters of all club social events and in recent years loved the Marquee Balls.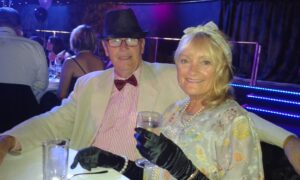 For a number of years now he has been courageously fighting a battle with Prostate Cancer, a disease which is quite prevalent among a number of men at our club. He didn't let it spoil his lifestyle as he underwent the various treatment processes to control it. But it eventually started to spread and started to take its toll on his mobility. But even when he couldn't get to the club anymore, his enthusiasm never diminished as he constantly wanted to know the latest news about the teams and what was happening at the club. Lionel knew the final path that he was on and handled it with great dignity.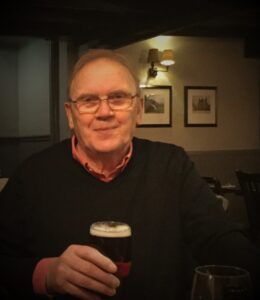 At 6'-5" he couldn't hide away and will be particularly missed at the club bar, especially post-match on a Saturday, where he contributed with distinction to the banter. You were Lymm Rugby through and through right to the end Lionel and we'll miss you but not forget our lovely friend. A glass or two will always be raised in your memory.
Finally we must not forget Mr Herbert Quick, your school rugby coach. So, thank you Bert because without your praise and the pat on the back all those years ago, Lymm Rugby Club would not have had the honour and pleasure of knowing Lionel Cockayne.
Rest in Peace old friend.
Peter Cornelia
Lymm RFC – www.lymmrugby.co.uk