The pantomimes and summer cabaret shows that Lymm rugby club have produced over the
last 30 plus years have reached almost legendary status, with tickets like gold dust and people travelling from all over the country to attend.
This year's summer show made a hugely welcome return after two years of cancelled
performances due to the Covid pandemic. Held over three nights in Lymm Rugby Club's
atmospheric clubhouse, there was a palpable sense of anticipation in the audience starved
of their fix of comedy, song, dance and double entendres as the show began.
The uniqueness of these productions was perfectly encapsulated in the opening act of the night 'Take Fat', a middle-aged Take That tribute act. The juxtaposition of middle aged,
amateur performers, earnestly singing a boy band classic and desperately trying to do the
song justice whilst having their tongues firmly in their cheeks, was a joy to behold.
The theme of this year's show was 'Travel' and we were guided through the evening's songs
and sketches and jokes old and new by compere Simon Plumb, who played a grinning,
bumbling character, stumbling and fumbling amusingly in between each scene.
Superbly directed and choreographed by Jan Halloran, the laughs and guffaws kept coming
with Mark Hesketh, Alicia Graham and Sophie Worton performing a hilarious and highly
relevant pastiche of a budget airline's flight crew safety talk.
The skill and talent of this truly ensemble cast has been honed and polished over many
years of successful shows and they expertly balanced sketches with musical pastiches. They also provided something for everyone – from the stand-up comedy of Steve Roe to the
delightfully silly but brilliantly sung duet by Brian Hope and Keith Broadbent, playing George Michael and Elton John, complete with a ridiculous dancing wig.
The silliness continued with Paul Foulkes appearing as Ernie who, as you will remember,
drove the fastest milk cart in the west, and Paul Rigby as Two-Ton Ted from Teddington who
drove the baker's van, and suggestively waved a French baguette at their love interest Sue,
played seductively by Sarah Stone, and the audience's direction.
Brian Hope and Sarah Worton reprieved their superb version of the Victoria Wood song,
'Let's Do It' which I firmly believe stands up in terms of the quality of their performance with
Victoria Wood's original.
Summer shows of the past have always had their finger on the pulse, drawing inspiration
from the zeitgeist and cultural trends of the year, and this show was no different.
Two 'Top Gun' themed sketches were very well received by the audience – one in which
Adam Halford, Ben Stansfield and Rob Makin played air guitar to the film's iconic sound
track and another in which Ben and Rob recreated the famous 'You've Lost that Loving
Feeling' scene from the movie for Hayley Cornelia.
Hayley's own 'Send in the Clown's' sketch was another highlight of the show. Dressed in an
elegant evening gown, Hayley managed to keep her composure, liltingly singing the song, as Paul Foulkes and Mark Hesketh, dressed as clowns, beat each other up with balloons and
fish as they pranked around beside her.
As always, the cast were supported by the tireless backstage and front of house teams of JC, Rick Rock, Yvonne Halford, Fiona Osborne, Andy Jackson, Colette Cartwright, Jess Jennings, Trish Gill, Ricky Cornelia and John Clark.
The next opportunity to catch the talented team on stage will be at this year's legendary
Christmas Pantomime 'The Wizard of Oz' – eight shows to be run over the first two
weekends of December and not to be missed!
Watch the club website for details on ticket availability nearer the time.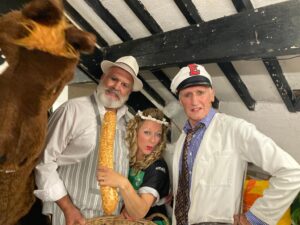 Horsing Around!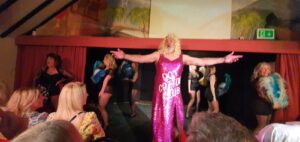 Hey Big Spender!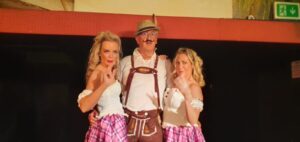 2 Saucy Ladies!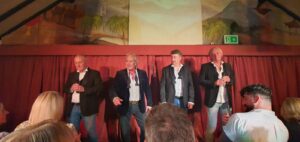 Take Fat!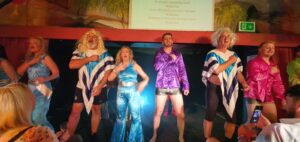 Abba?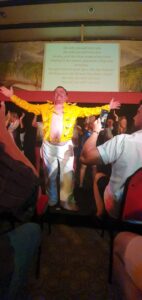 Freddie Mercury AKA Tucker!