Adam, Debbie and Stacey wish to pass on their thanks and appreciation for all who were at the club on Friday to pay their respects to Gary and to remember him.  It meant a great deal to them to see the high esteem that Gary was held in by so many of people that knew him and were privileged to call him a friend.
If you would like to record your thoughts or memories of Gary please email to:
They will then be posted on the website.
Gary.. Gary.. Gary.. where you gone bro? Rest In Peace my dear friend. Was a privilege to have called you a true true friend. Never ever existed a more honorable, considerate and genuine person. You leave behind many broken hearts Gary. Mine aches for you. Love you my pal forever. Rest easy my friend and in Peace..Housey Boy – Paul Williamson
Gary and his boys during and after ceremonial coach dousing after Lymm U15's? won the Cheshire Cup beating Caldy at Heywood Road 1995? At least 6 of these lads went on to play Lymm first team as teenagers.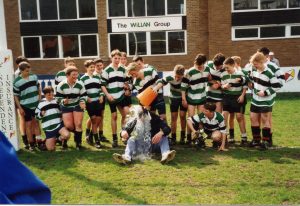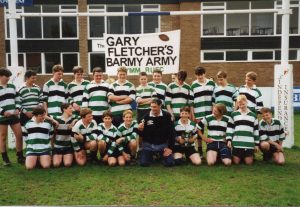 What an absolute legend of a guy. Rugby wise, I watched him coach my brothers side from an early age. They were an unbelievable team and Gary was obviously adored by each and every player. I used to stand on the side and wish I could play for them.
One day, Dan Naylor was injured and he picked me to play fly half for them. I was so nervous but Gary gave me the reassurance and confidence to pull the shirt on and perform. He stuck by me from that day on. He'd always offer advice and build my self confidence up throughout my time at Lymm. He was so supportive to me and to every young player moving their way up the ranks. He always wanted to give youth a chance.
Even more important was the guidance he gave me outside of rugby. He'd often put an arm round me and help me with the problems I had outside of the game. All the lads at Lymm respected him and looked up to him so much. He obviously passed these traits onto Adam as he was a great captain and has also turned out to be an excellent coach too.
I can't thank him enough. He will be sorely missed and my thoughts are with his family. RIP big man. – David Williamson
So sorry to hear the terrible news about Gary. He came to rugby at a mature age but made a big impact and I'm glad I didn't play against him, a hard man. His contribution to mini and junior rugby and the club itself is massive and he will be greatly missed. I had the pleasure of refereeing the team he developed from U14 to U17. They were a fantastic and very successful team and he was a real father figure to them all. When the present crisis is over, I hope the club can do something special for a special club man. My thoughts go to Debbie, Adam,Stacey and family. – Steve Fox
To Debbie, Adam, Stacey and family. What a shock for us all at the club, on hearing the news last Friday morning about Gary. In the late 1970's, when I was Social Chairman, I brought Gary to the club as doorman for our Tuesday & Saturday discos. We became good friends and he gradually bought into the club's culture, liking the people and what it represented.
I was also running the Colts in those days and he took a keen interest in the young players. He brought his weights up to the club and put many of them through weight training programmes to improve their fitness. In about 1980, he and club DJ Ken Chambers, organised a Saturday fete at the club, to raise money towards funding a Colts tour to Amsterdam.
He later took up rugby himself as a novice, working hard on his game and progressed through the sides to the 2's, which was some achievement. He could possibly have made the 1's if a chronic back injury hadn't developed.
He married Debbie and young Adam and Stacey arrived. He couldn't wait to bring Adam up to mini rugby, coaching a squad through to U16's. Most of them went on to play for the club, many for the 1st team.
Greatly respected at the club, I'll miss him very much. He was very proud of his family, my sincere condolences to you all.
Rest in Peace Gary. – Peter Cornelia 
I have been so touched by all the kind words that have been said about my big brother. He was obviously a well thought of member of the club.
I was his youngest brother and as a kid growing up and when he came out of the army he toughened me up and taught me how to box, keep fit and generally just being a good brother to me.
He tried to get me to play rugby there but too tough a game for me!
Great to see Adam doing well there. On behalf of myself and my other brother Stuart and Pauline his Sister, thank you  Lymm Rugby Club for being part of his life. –
Bryan Fletcher
In loving memory of Gary Fletcher, who brought an air of calmness and consideration to all. Our son Luke was minded by Debbie, Garys wife for a number of years and I often saw him on his way to work or at night when we picked Luke up. His laughter and kindness struck me, as he never had a bad word to say about anyone. Gary will be sadly missed by us and all who knew him. Our condolences go to Debbie, Adam, Stacey and family. Our thoughts and prayers go to them all at this time. – Pippa, Mark and Luke Sturch
Gary :  A treasured memory
It was in the late 1970's that I first became acquainted with Gary. He was the club's doorman when Discos attracted lots of young people both members and non members. There wasn't much of a Warrington night life choice back in those days. Certainly I,and I guess other players said to Gary "You are a big strong lad,what about playing rugby." It was obvious that he did some training with weights, something relatively rare in those days. Gary said he had never played and hadn't much idea about what playing involved but agreed with me that he would give it a go.
I was in my very late 30's, just getting the occasional first team game but playing regularly at 2's or 3's. I think it was a game down at  Sow Brook when for the first time he pulled on a Lymm shirt and yes the opposition were probably impressed by the big fit looking bloke playing at this level for Lymm. Certainly not my usual position but we paired up in the second row so that I could show and tell Gary what to do. It was a  crash learning course for him and an enjoyable afternoon of playing and teaching for me. I cannot remember who we played or the result but what mattered was that Gary had become a rugby player and continued playing until a back injury, I think, ended his playing career some years later.
We often recalled that game and had a good laugh about it over the years particularly in recent times when we met as spectators watching Adam play and more recently in his role as coach and Director of Rugby. I know he was justly proud of Adam and the players and teams that he coached.But equally we should be all proud of having Gary as one of us and give thanks for all that he has done for his family and our family club.  As Gary continued playing he became a committed and significant member ,highly regarded and respected by everyone privileged to know him as a friend. He shared his weights and knowledge of how to use them establishing what is now routinely  part of player conditioning. He transferred his love of the game to many people at the club and the school which will be a long and enduring legacy. In years to come there will be many conversations that start with " I remember when Gary ……………….." and they will be conducted as happy memories. – Jim Knowles
Dear Debbie and family,  I am so sorry for your loss, and send sincere condolences to you and your family. Gary was such a 'gentle giant', patient, kind and understanding, especially when coaching and dealing with groups of children. I came to know him in this capacity when I was teaching at Ravenbank School in the 1990's. He volunteered to teach and coach rugby as an extra sports activity for boys and girls, and I was one of the teachers who accepted his offer. He brought along all the equipment, and with his non-discriminatory attitude encouraged and introduced to both boys and girls the basics of rugby.
They loved it! Especially the girls!  Firstly Gary carefully observed  all safety rules. He was patient with clear and softly spoken and often amusing instructions, which suited my class of seven year olds, first year juniors. I have met some of the boys since when they were playing for Lymm RFC, and I like to think that Gary may have laid the foundations for their love of the sport. We grieve his passing, but his memory and legacy will  live on. May he rest in peace on the playing fields of heaven and in the hearts of the children he coached.
I am sending these memories of Gary with special thoughts for you Debbie and his family at this very sad time. With love and best wishes. – Mary Cockayne
What a great guy & team mate,  a great loss for all who knew him. Debs & I both pass on our sincere condolences to all the family – Rob Forsyth
So sad to lose such a good clubman and good friend – Many memories of Gary on the pitch and around the club. Lovely man RIP.D&L – Derek Musson
Desperately sad for the Fletcher family. Gary had such a terrible time over the last few years, I can't imagine what that disease much have been like to deal with. Massive respect for the guy. He knew nowt about the game when he joined the club, but he wanted to learn and he was a useful Enforcer!
He was so proud when Adam got the club captaincy, and then the Coaching role. So sad that we can't go to his funeral, and let's not forget him when we do finally get back into the club.
Lots of love and best wishes mate, rest in peace. – Steve Ashall
RIP Gary.
Husband , father , grandfather and club stalwart. A big man who will leave a big void. Condolences to Debbie, Adam and Stacey. – John Cross
Remember when I first started going to the club to watch matches and didn't know many / any people, Gary was someone who would always talk to me make me feel welcome. Over the years this never changed. Neither did how understatedly but enormously proud he was of Adam. – Neil Allen
(During one of his early appearances …..) "Good half Gary – just try and make sure they've got the ball when you hit 'em". Very sad news, goodbye mate it was good knowing and playing with you. – Dave Mercer
Our deepest condolences to Adam and his family from Oz, Neil, Dave and the lads of the 2010 to 2012  colts side, that were the first to thrive under the auspices of Adam and the academy approach. It seems the influence of Gary's coaching approach was  reflected by "Fletch" in his motivation of our lads. – Dave Fernyhough
A fitting tribute from his extended Lymm family. A real privilege to have known and enjoyed his friendship over many years. A genuine gentleman and friendly giant amongst men.Gary will be greatly missed but always present at Lymm RFC. – Chris Askew
Gary Fletcher. Big man with an even bigger heart. Quietly spoken; a true courageous gentleman. Even when he was ill his face would light up when he saw you. Gary has given so much to so many without seeking anything in return. You will be sadly missed my friend. Our thoughts are of course with Debbie, Stacey and Adam. – Karen and Angus Morris
Gary came to rugby late. But when he arrived we all knew about it! He was a specimen of a man even at a youngish age, and his presence in a Lymm shirt was  a huge positive for the 14 players alongside him.  He gained even more respect as he grasped the laws of the game quickly, though he was also useful at transgressing them if it was for the better of the team! Personally, it was always reassuring in those long gone dark days, when a trip walking to Lymm Village after a sesh at the club on a Saturday could be fraught with potential incidents and you had the reassurance that you had the Big Man beside you to repel insurgents! Though I am not not involved in the club these days, I know he was a very big part of nurturing of what we see on the 1st team pitch these days and he has a legacy that nobody will or should forget. May your God bless you Gary, it was a pleasure to have shared time with you. Debbie, my thoughts are with you and family. – Rod Savage
So sorry to hear of the passing of Gary. What a lovely gentleman. I remember when he took up golf, I would worry if I'd been at High Legh for more than ten minutes and I'd not seen Gary! He just loved it.
When we had the really bad Winter and I had to abandon my car at the Dam, who should appear but Gary, in his golf shoes! What at lovely, kind, honest human being. He will be sadly missed.
My thoughts are with his family. Rest in peace Gary you will be remembered. – Christine McEwan